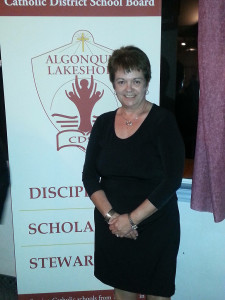 Math Motivator was created by Vicki McGinn, to share her vast learning experiences on mathematics with a wide audience – teachers, children & parents. Vicki McGinn, was a classroom teacher for 15 years. She has just retired from the Algonquin & Lakeshore Catholic District School Board as a Special Assignment Teacher.
Over the past eleven years, this role has allowed her to spend many hours in a variety of Kindergarten to Grade 6 classrooms across the school board observing and interacting with students. An important aspect of her work was spent collaborating with educators and students in support of educator, school or board inquiries. She has had the opportunity to deepen her own math content knowledge and understanding of student challenges and successes in math through her work with the Ministry of Education in various initiatives such as Small & Northern Boards Math, Collaborative Inquiry for the Teaching of Mathematics (CIL-M), Systems Implementation and Monitoring (SIM), and the EOSDN "Closing the Gaps" Math Project.
Even as she retires, Vicki continues to be very passionate about the teaching and learning of mathematics and wishes to continue as an educator mentor to share her vast learning experiences with a wider audience to include parents.